New Mom gift ideas are often carefully chosen, with a breath of excitement and wonder. Picking just the right gift allows us to share in a bit of their joy and awe. Of course, there are ideas in the baby shower registry with the necessities every new momma (and daddy!) needs.  But sometimes, we want something more personal.  A gift that is unexpected. An item that will still be there, long after the 0-6 mos onesies no longer fit, and the diaper genie has lost its novelty.
Personal and unique are two words that best describe today's round up of gift ideas you will want to check out, whether you have an expectant mother you are shopping for, or have a new mother in your life that you would like to make smile.  These handmade gifts can all be found at https://Etsy.com/Shop/15xDesigns  Free shipping is provided on all items, and orders are made and processed within 1 to 3 days.
Let's take a sneak peek, to satisfy your curiosity!
Custom Initial Print: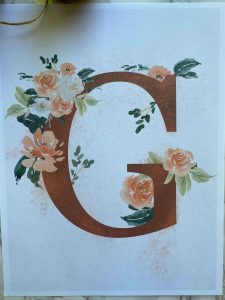 This subtle floral print is handmade with a water-color effect on card stock paper, 8.5″ x 11″  and is ready for your favorite frame. You can have it personalized with the baby's initial, or get 3 letters to create a unique, memorable monogram that has no expiration date & can't be outgrown.
 Drawer Organizers: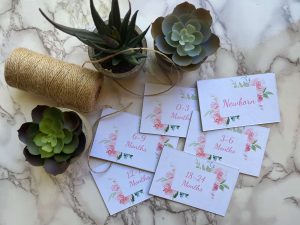 The first year is a blur of ever-changing clothing sizes. We often receive clothing as gifts, and they span from 0-3 months through 12 months and beyond!  Help reduce the new momma's overwhelm by gifting her with acrylic totes to hold each size, and label the totes wtih these gorgeous handmade drawer tags to help her keep them organized.
Hanger Organizers: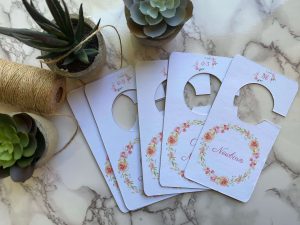 In addition to the countless onesies and sleepers nicely organized in the drawers, as suggested above, the closet is full too! Separate the gorgeous dresses, top & bottom outfits, jackets and snowsuits by size. Just think, each time she reaches in to grab an outfit, she is likely to smile at your thougtfulness.  The hangers have a lovely handmade print, along with the size range, on both sides of the hanger. Just think of how much time you will be saving the new parents with this gift!
Baby Milestone Stickers: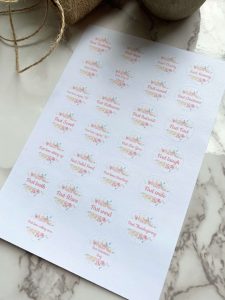 The first year is filled with weekly and monthly milestones – sometimes even daily changes! Life is busy, and we live in the moment. What can seem like a memory we will never forget, does blur with time, as other significant milestones get layered with the passing of time. While the new parents may not have time to record that first smile, first night's sleep or first taste of solid food – applying a quick sticker to the calendar is the perfect option!  These hand-designed stickers will uniquely capture the moments and memories for many years to come!
Do you have someone in your life that may have use for these personal yet practical gifts?  Something hand-made is typically far more memorable, and will express just how much you care.
These would all make excellent gifts for the holidays as well!
This is a new shop and these are just a few of the new products launched. There are more planned. Please bookmark the shop and follow the social media pages to be alerted to new products as they are announced. Do you have an idea you would like brought to life? Contact me to see if I can design it for you!  You can reach me here:  15xdesigns.com/#sayhi