Sunflowers radiate joy and fun! Their bright colors & massive presence seems to lean toward us, beckoning to come check them out. They offer a natural, beautiful photo backdrop, and add cheery color to any photograph. Imagine then, an entire field filled with their bright cheer, seeming to wave at you.
I designed these sunflowers as a gift for a friend who has a passion for sunflowers.  She was pleased with her new stickers!  Since August and early September are typically when sunflowers are blooming in Minnesota, I thought I would share information about 4 sunflower farms that offer public access.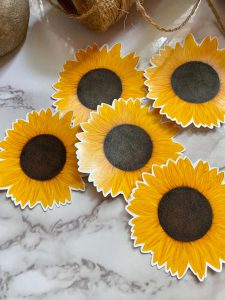 4  Sunflower Fields That Offer Family-Friendly Fun
Treasured Haven Farm:
This farm hosts Sunflower Days in August, 7 days a week, from 10:00 A.M. to 8:30 P.M.  They also offer onsite concessions and a farm gift shop that is open from 11:00 A.M. to 7:30 P.M.  You can walk through the field, and take family photos. They also have woodland trails and creek overlooks that are available. This is a working farm, and they have several other features. They charge $20 per vehicle of 2 or more, or $10 for one individual in a vehicle. The farm sounds idyllic with all that they offer! You can learn more on their website at TreasuredHavenFarm.com  Or call, 651-208-4012.  This farm is located at 53407 Government Road, Rush City, MN 55069.  This may be a fun Sunday drive and a memorable family-fun day!
Green Barn Garden Center:
This garden center hosts Sunflower Days dependent on when their two fields begin blooming. This year, they are expecting Field 1 to be ready August 10th. They are open Monday through Wednesday from 7:00 A.M. to dusk, with the last admission at 8:00 P.M.  Their second field is typically ready 1 to 2 weeks later.  They encourage checking their website daily at GreenBarnGardenCenter.com to be certain of the field status. They charge $6.00 per person with those under age 5 free of charge. They offer photo opps, sell cut flowers, and have food trucks available. Questions can also be emailed to info@greenbarngardencenter.com  This farm is located at 26501 Hwy 65 NE in Isanti, MN.  Their phone is 763-444-5725.
Waldoch Farm Garden Center:
Waldoch Farm hosts a Sunflower Festival! You can buy your tickets online and experience a wagon ride out to the field, U-Pick Sunflower of choice, they have live music and a 'pick and play' experience for the day. This farm has 6 acres of sunflowers that bloom in late August. You can find more information online at WaldochFarm.com  Their location is 8174 Lake Drive, Lino Lakes, MN 55014.
Sunflower Ranch:
This Sunflower Fest is a community building event with sponsors that enable it to be offered free to the public!  They are open from sunup to sundown for two weeks starting on the last Friday in August, through Labor Day.  They encourage going to their Facebook page @sunflowerranchmn for updated videos on the status of the field. They also have a store and offer flowers for sale and have an assortment of t-shirts and sweatshirts available.  They have an interesting article on the history of their ranch & how it came to fruition as a sunflower ranch. You can read more at sunflower-ranch.com and can visit the farm at 16604 County Road 11 SE, Big Lake, MN 55309.
Note:  Due to 2020 coronavirus challenges and restrictions, you will want to check with each farm on the current status of planned events for this season. Like many businesses, the best plans can be altered, through no fault of their own, with very little notice!  All information shared here was pulled from their individual websites.  I have not personally visited any of these farms and am merely sharing this round-up based on my online research.
Do you, or anyone in your life, also share a love of sunflowers? If so, I invite you to drop by my Etsy shop, 15xDesigns and check out the sunflower stickers I designed. I have two types available.  One version is the die-cut labels shown in the photo above. They are 2 inches in diameter. Ready to bring smiles & joy to others! You can also view them here, on my website in the gallery section.
Another version I have is a set of 2 sheets of 24 stickers, 48 total stickers.  They are perfect for praise & recognition – as potty training stickers, or if you are wearing the home-schooling hat, even as a hybrid model this year, you will want to have some stickers on hand to praise and encourage your children as they complete their school assignments.  The shop is just launching, so new products will continue to be added. I hope you will drop by, and maybe bookmark the page  or follow me on social media to be alerted as new designs and products are made available.